Why surf-tarifa?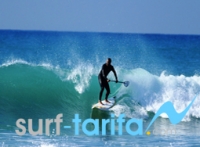 We are located directly in Tarifa and are always well-informed about the latest local surf trends.
Using our website you can always compare offers from best surfschools and choose what suits you better.
We guarantee you find the best price surf school or surf equipment to rent!
Booking your course and equipment in advance you will save your vacation time in Tarifa and will help to avoid problems of search and selection of suitable offer especially in high-season in Tarifa.
---
Tarifa is incredible place!
It really deserves fame of one of the best surfing places in the world! It's quite an impressive feeling, realizing that you are on the very Southern spot of Spain, you can almost see Africa, feel its breath with the Poniente wind which blows from the ocean. One more specific feature of this unusual place is possibility to swim in two different kinds of water. When you are on this uncommon beach you can go to the right and swim in the Atlantic Ocean or move to the left and enjoy the Mediterranean Sea. Moreover, stunning mountain view will not leave untouched nor experienced surfers nor people, who just want to try this kind of active rest. Tarifa gives lots of various options of memorable vacation!
The most popular activities are surfing, windsurfing and kitesurfing. People come here from all over the world to catch the wave! Tarifa is remarkable for its constant windy weather. Wind blows here all year round. However, you may need to go along the beach to find the most suitable place. Depending on your wishes there are some cool places to go surfing. The most famous one is beach Los Lances. You can find it on the North from Tarifa. Almost ten kilometers of white sand, fresh air, bright sun and cool water. Los Lances has very-very good infrastructure with lots of shops with all needed surf-equipment, bars, restaurants, what is even more important with public toilets, changing rooms, lifeguard posts. Essential detail is transportation system. You can come here by bus or with your private car, which you can easily park near the beach.
Second well-known place is Valdevaqueros. It's very popular among youth: active sport during the day and numerous places to hang out at night, significant elements of amazing summer. Accommodation question is also flexible and variable along all Tarifa beaches. It is absolutely up to you, to live in comfortable hotel or little less comfy, but more affordable camping! However, kitesurfing is not allowed here during summer months.