Tarifa nightlife!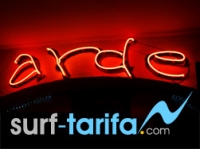 Most of the nightlife takes place in the old town of Tarifa and then changes in the morning to the Poligono "la Vega". There are 3 nightclubs which are open almost until noon.
The tourist season starts in Tarifa with the Easter week, the Semana Santa.
All the bars, restaurants and nightclubs are then chic and end the hibernation. Some remain the same as last year, others are added in a new guise. Mostly the one, or other surprise is with, which is something different and the locals are already curious.
As in all cities, Tarifa is constantly changing and adapting to the times.
In fact, it starts at the Andalusian fishing bar and ends in the Schicki-Micki shop. In this respect, there is something for everyone in Tarifa, which can be reached with a short walk.
The old town Tarifas / Casco antiguo
The winding old town irritated first with all the small squares that look the same at first glance. After a few laps everyone gains the overview, and it becomes manageable. This is basically the nightlife in Tarifa.
Numerous bars line up and are alternated from time to time by restaurants, which makes the charm of the narrow streets.
But before 21 clock nobody needs to seriously go to Tarifa to eat. Mostly there is food from 22 clock, which is a typical Spanish meal time, which can last until night. Of course, working life ends in Spain at 9 pm. Therefore, it is no wonder that everything moves backwards.
.... and since going out is an integral part of Spanish culture, it is not surprising that you meet God and the world on the street.
Andalusians like to say "friends do not meet at home, but in the bar".
Generally, except surfing, wonderful water and bright sun, Tarifa has an interesting night life.
There are several night clubs, which working from dusk till dawn for the whole night. As well-known, in Spain there exist a siesta at day time, because of the hot weather. So many people are working hours to 9 p.m., so all pleasure in life is shifted to night time. At night most residents of Tarifa you can meet in bars and clubs. In city there are places for sightsee:
Guzman's castle, which is placed near the port, it were built by caliph Abd-ar-Rahman III, the St. Mary's church and the gate - the Puerta de Jerez (13th century);
Over a former mosque you can see the church of St. Matthew, it were built in Gothic style;
the Roman city's ruins are located nearby;