Wind in Tarifa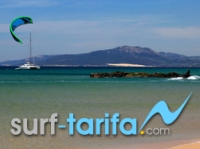 It is almost always we have wind here in Tarifa. There are two main wind directions here — Levant and Ponente.
Levant is usually dry and powerful wind. It starts with very gusty blows. The speed of wind could reach even 60 knots. For the most beaches in Tarifa it is offshore wind. That is why it is difficult to use these beaches for beginners to learn kite or windsurf.
With Levant almost all kite windsurf schools teach either in very beautiful Tarifa's beach Valdevaqueros or even further in Estepona, Palmones, Sotogrande, Canios de Meca.
Levant could blow from 3 days till one month! It will be constant wind, which blows day and night!
The advantage of the wind is a possibility to ride and jump on flat water with a small kite or you could go to Canios de Meca and ride waves there.
Ponente is opposite to Levant. It blows constant, soft and pleasure. It comes together with waves. It is very friendly wind because it's onshore everywhere and you could ride in every beach and also in Tarifa town. It usually blows from 8 till 25 knots.
With Ponente in Tarifa it is very safety to learn kite or windsurf, because it is onshore. For beginners it could be little more difficult than in other places because of small waves (aprox. 1 m high)
In case of no wind you could learn surf or paddle surf (sup) or just take sun on a beach!
There is no rain in Tarifa in summer time.
Talking about kitesurfing practice Tarifa is a perfect place. It doesn't matter if you are expert or beginner, this place gives you all the best to enjoy your time here. For your comfort there are rent offices, schools with professional instructors, restaurants, bars and clubs.Of course, here you may also take necessary equipment for surfing, windsurfing and kite-surfing. International Kiteboarding Organization centers are also present here, offering different level courses.
If you decided to take a rest for a while or change activity, Tarifa provides huge number of opportunities to have a great time! If you still have plenty of energy you can try golf, mountain bike or horseback riding, whale-watching tour (we are very recommend this tour — it's a very big pleasure), simply hiking and, definitely, sightseeing. There are many interesting places to attend.
Puerta de Jerez, Castle El Guzman el Bueno, Church San Mateo, El camino de la isla de las Palomas, Baelo Claudia in Bolonia, military buildings which were closed for a long period of time is not the full list of place of interest.